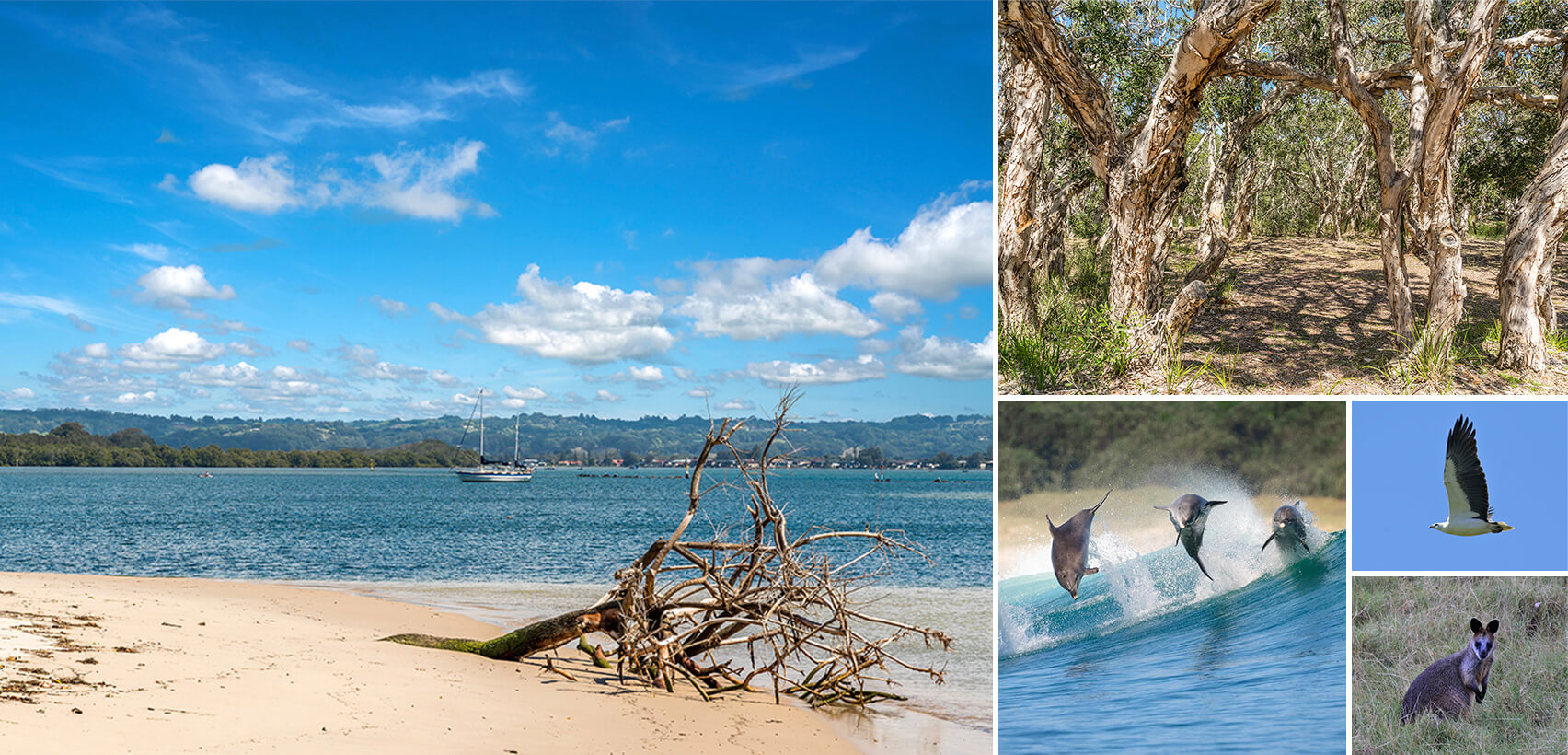 A Bushwalker's Haven
The magnificent 31 km-long South Ballina Beach is the second largest in the state, making it easy to get your steps up along pristine sand while breathing in the fresh sea air. Bushwalkers and trail runners can explore the South Ballina and Tuckeroo Trails as well as the tapestry of tracks that weave through the adjacent 254-hectare Richmond River Nature Reserve.
Glamping Downunder
For a couple's retreat, a midsummer's getaway, or a family adventure; our luxury tents are ideal for any adventurer's next sanctuary seeking trip. Experience sleeping under the Ballina stars, close enough to Byron Bay that you can make it up to Cape Byron Lighthouse before sunrise.
A Birdwatcher's Wonderland
Glossy black-cockatoos, tawny frogmouths, owls, ospreys, rosellas and kookaburras are either permanent residents or drop in from time to time. Curious, enchanting, chatty (and sometimes cheeky), they're a big part of your nature experience.
For serious twitchers, the Richmond River Nature Reserve is a significant habitat for 160 identified bird species, 22 of which are shorebirds protected under international conservation agreements, including the Pied Oystercatcher. For more info on our local birds, check out this Birdwatching Fact Sheet by Byron Bird Buddies.
An Angler's Dream
We regularly host happy angling groups thanks to our fantastic surf, rock wall and estuary fishing. Our location next to South Ballina Beach and Richmond River enjoys a huge variety of fish from bream, whiting, flathead, jewfish and trevally to blackfish, mangrove jack, tailor and delicious salmon!
Need bait? Head to the Resort Shop for an extensive range, and make use of our fish cleaning table before cooking up your fresh catch!
A Whale & Dolphin-Spotter's Delight
From June to October, our Nature Resort gives you a front-row seat to the humpback whales' annual migration past the coastline between Ballina and Byron Bay.
Dolphin encounters are also common, particularly at the mouth of the Richmond River, where they love to play and surf! Keep an eye out from the shore or book an organised whale watching or dolphin cruise for closer encounters of the natural kind.
According to Surfline, our nearby surfing at South Wall Ballina boasts, "A dreamy lefthander that provides, like Tallows in Byron, one of the few options when the wind is from the northeast. When it's on, it's a furious performance wave..." Surfers will know what they mean!
Check out the Surf Cam and Reports for up-to-date info and BeachSafe for advice on weather and warnings. Stay safe as South Ballina Beach is unpatrolled and has notorious longshore and rip currents.
A Stargazer's TV
Settle in for the night in front of our big-screen sky as our stargazing is nothing short of spectacular. Coupled with your campfire, it's a truly memorable Australian wilderness experience. Check out what's visible here, or why not help the kids identify the stars with one of the many Stargazing apps.
A Wildlife Lover's Delight
Our Nature Resort is also home to amazing Aussie wildlife, including echidnas, wallabies, bearded dragons and pythons. If you head to the river, keep an eye out for dugongs and loggerhead turtles too! If you're uploading a pic to social, don't forget #BallinaBeachNatureResort.
Our wildlife is precious and part of our Ballina Beach Nature Resort experience. Please treat every encounter with respect, and don't approach, feed or interfere with their natural activities (even if the cheeky things beg for food).