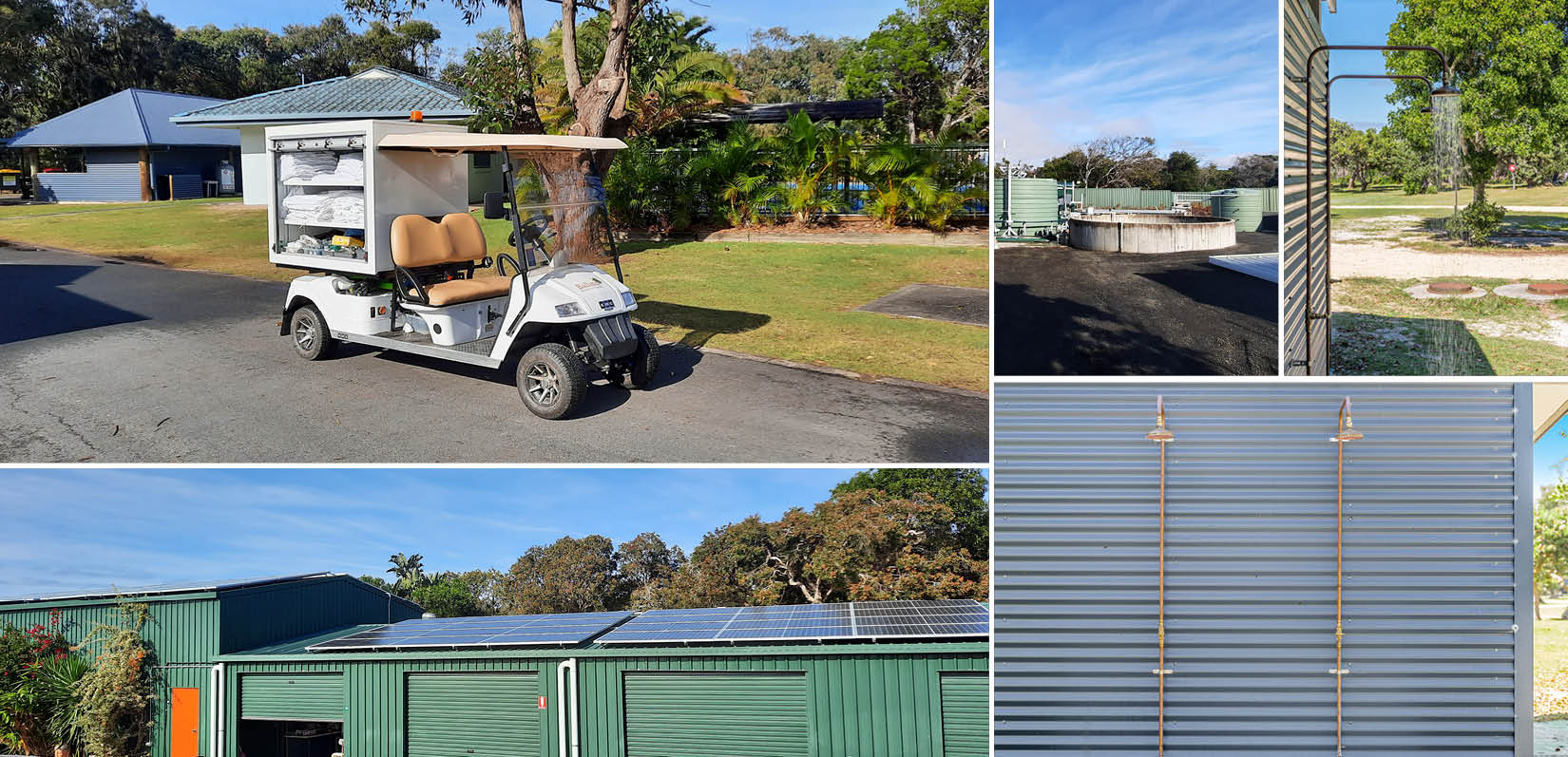 Fresh Rainwater Harvesting
The water you drink is as fresh as you can get because our eco-friendly resort harvests all the rainwater Mother Nature provides us. We've invested in a new desalination plant, as well as new rainwater storage tanks that hold more than a million litres. All our rainwater is filtered and chlorinated on-site to ensure it's safe for drinking and bathing. Like all eco-friendly holiday resorts, we ask you to shower or brush your teeth with conservation in mind!
Bore Water for Toilets & Fire Hoses.
We're also lucky to have a bore on the property, which we use for the toilets and fire hose reels. This bore water has high levels of salinity and minerals, so we don't use it for drinking. Depending on how dry the season's been, our bore water can be discoloured in the toilets. Check out our FAQ for more info on our bore water.
Solar & Greener Power
We're working hard to boost our resort's solar power capabilities and reduce our emissions. The first stage of our journey has resulted in the production of an impressive 39 kW of power on every glorious blue-sky day. That's enough to service a majority of our eco-friendly holiday resort's everyday energy needs. There's more to come, so check back for an update soon!
On-Site Sewerage Treatment
We're proud to be able to process sewage on-site using state-of-the-art sewerage treatment and fertilisation technology. To avoid disrupting the delicate balance of bacteria at our treatment plant, we ask all guests to avoid putting harsh chemicals, nappies, solid materials or excessive toilet paper into the toilets and sinks.
Electric Mobility
To reduce our emissions, we've replaced fossil fuel-driven vehicles with electric buggies for our housekeeping and resort staff. 
Waste Reduction & Recycling Stations
We're pretty big on recycling, and you'll find food, plastic, paper, aluminium and glass recycling stations throughout our eco-friendly resort. We no longer use plastic bags or straws at our Resort Shop and Turtles Café to protect our environment and wildlife. We recommend  you bring reusable water bottles and enjoy our freshly harvested rainwater to reduce plastic water bottle waste.
Eco & Wildlife Education
During school holidays, we are delighted to welcome wildlife educators to our idyllic Nature Resort. Please visit the Resort Shop for a calendar of events and activities during your stay.
For more information, check out our Sustainability, Water & Sewage FAQs
FAQs