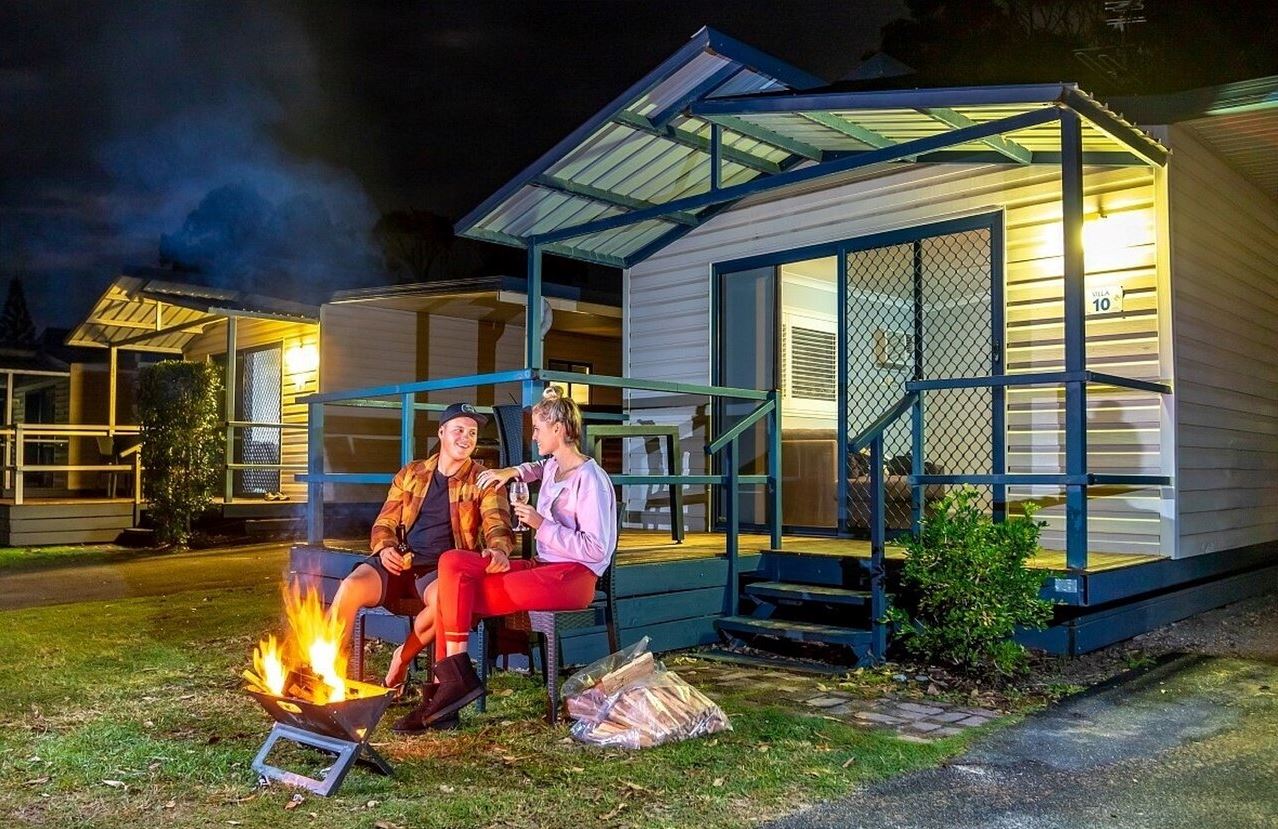 Booking, Payment and Cancellation Policies
Can I pay for my stay over a period of time? 
We welcome part payments as long as you pay the specified deposit when you book and the balance when it's due. You can make payment via our Guest Portal here. Our Terms & Conditions have everything you need to know about deposits, payments and accepted credit cards.
Can we request a specific holiday villa, luxury tent, cabin or site? 
If you've visited us before or have fallen in love with a particular villa, cabin or site, we understand why you'd want it again! We welcome requests, and we'll do our utmost. However, we can't guarantee them. Wherever you stay, we know you'll have a relaxing time!
How many people can we have on our site? 
The more, the merrier—up to a maximum of six people per site or cabin regardless of age! Just be aware our rates are based on two guests on all accomodation types except for our 3 bedroom  villas, so you'll need to pay for every additional guest over the age of five. Check out our Terms & Conditions for rates and details, or get in touch with our team if you're booking a large group or function.
What's your cancellation policy, especially for COVID-19?
Our Terms & Conditions have all our Cancellation Policy details if you're booking directly with us via our website. We understand that COVID-19 can disrupt your holiday plans, so we have a special COVID-19 Flexible Cancellation Policy, too. Click here to see our Cancellation Policies. We recommend our guests take out travel insurance that suits their circumstances. 
What time can we check-in and check-out?
Check-in is available from noon for sites and 2pm for holiday villas, cabins and luxury tents. Check-out is at 10am for everyone.
Can we have an early check-in or late check-out?
Keen to make use of our resort facilities? Early check-in is available on request and may be subject to an additional surcharge. Subject to availability, we may also be able to offer you a late check-out. Unfortunately, we're unable to offer late check-outs during holiday periods.
What happens if we arrive outside of your office hours?
No worries! You can do it online via our client portal. You'll need to pay the remainder of your booking before arriving.  If you are checking into a holiday villa, cabin or luxury tent you can check-in using our 24-hour kiosk located right outside the Resort Office. If you are checking into a site you can check in online via the client portal and go straight to your site. If you're arriving at your site after 8pm, please don't hammer tent pegs or do anything that may disrupt the peace and comfort of your fellow campers!
Arriving at Ballina Beach Nature Resort
How do I get to Ballina Beach Nature Resort?
Check out our location page with a video and instructions on how to get to our resort. 
Can I take the ferry to and from the resort?
Absolutely, and it's the fastest way to get to us from the north. The ferry crosses the Richmond River from West Ballina and takes just four minutes. Click here for all the ferry details.
Can I take my car, caravan or boat trailer on the ferry?
Absolutely! Check out the ferry rates here for the different vehicles. If you have a low towing vehicle, we recommend you go the long way around via Wardell as you could bottom out on the ferry ramp, especially at low tide. For directions, see our location page or download them here. Our ferry drivers are legends—please help them by getting out of the car and going to the Ferry Master's window to pay.
What are the ferry's operating hours?
The ferry service operates daily between 5.30am and 12.30am except on Christmas Day
First daily crossing leaves the South Ballina ramp at 5.30am
Last daily crossing leaves the South Ballina ramp at 12.25am
The ferry is closed for maintenance on the second Tuesday of every month between 9am and noon. It's also closed for 2 – 4 weeks for annual maintenance. Check out the council's Facebook page or MyRoadInfo for reports of ferry service closures.
Are we close to Ballina if we need the shops?
Despite our peaceful, island-style location, we're less than 5 kms to the nearest shopping complex in West Ballina! If you forget or need anything, you'll find Bunnings, Westower Tavern, Dan Murphy's, Spar supermarket, newsagent, doctors, chemist and more near the Burns Point Ferry. We're also about 9 kms from the centre of town or to the two large shopping complexes with a cinema, pool and gym.  In addition we have a small Kiosk, cafe and bar for any urgent requirements onsite.
Is it safe for kids to ride bikes around the resort?
Bikes are perfect for getting around the resort during daylight hours. However, we don't allow bikes and scooters after sunset for everyone's safety. For that reason, we have a 4 km/h speed limit for all vehicles and ask that you watch out for pedestrians and bike riders, particularly children.
Can we bring our boat?
Yes, but please notify us before you arrive! Your boat must fit entirely in your holiday villa, luxury tent or cabin's carport or campsite, or you'll be charged for an additional site. You can launch your boat into Richmond River from our nearby boat ramp marked on the Resort Map.
How many vehicles are we allowed per site?
All our accommodation, including sites, allows one vehicle only. If you have more than one vehicle, please let us know before arriving, and we'll try to accommodate it. All vehicles, including boats, trailers and caravans, must fit entirely within your site or accommodation driveway or be left outside the resort.
Camping Facilities & Amenities
What camping facilities do you have?
Check out our Resort & Camping Facilities page for all the info on our facilities, including a fully-equipped camp kitchen, coin-operated laundry and amenity blocks with showers, toilets, baby bath facilities and a disabled bathroom. Our Resort Map will guide you to all our camping facilities, and you'll find signposts around the resort, too!
I want a break from cooking—do you have a café?
We know the feeling! Turtles Café and Kiosk is your go-to place if you're craving a barista-made coffee or delicious meal. See our Resort Facilities page for all the details and opening hours. The café also has fantastic food & beverage catering packages if you're having a special event. Get in touch with our team here.
Do you sell alcohol or have a bar?
Yes, we're licensed to sell alcohol from our Resort Shop, located in the Turtles Café. Our Sunset Bar is also a bit of a vibe with cocktails and live acoustic music during peak season. For the low-down, check out our Resort Facilities page.
What facilities do the holiday villas, cabins & luxury tents have?
To lighten your packing load and give you a relaxing break from washing, we provide all bed linen and bath towels as well as shampoo, conditioner, and shower gel. Winter has the odd days when it gets chilly, so please do bring an extra doona if you're particularly sensitive to the cold! The accommodation also features:
air conditioning for your comfort (please switch it off when you leave)
cooking facilities,
crockery, cutlery and glasses,
ensuite bathrooms and hot water
For a more detailed list refer to each accomodation type.
Can young children sleep on top bunks?
Most of our holiday villas, cabins and luxury tents feature a queen bed and bunk beds. It is our duty of care to advise all parents that the new Australian Standards recommend that children under the age of 9 years should not sleep on the top bunk or elevated beds as it can be dangerous.
What happens if I lose my key?
Please keep your key safe as we charge $20 for a replacement if you lose or damage it. Just head to our Resort Office, and we'll organise a replacement.
Sustainability, Water & Sewage
Are you an eco-resort?
We're working hard to lighten our footstep and become a sustainable, eco-friendly holiday resort. Visit our Eco Commitment page for more information about our latest solar power, sewage and emission reduction initiatives.
Why is the toilet water brown?
We use bore water in our toilets. Apologies, as while it doesn't look sparkling, it is in no way due to a lack of cleanliness (our toilets are very regularly cleaned!). The brown water is caused by bore water minerals, which deposit almost immediately on surfaces, particularly metal.
During a dry season, the bore water can get very concentrated as it's highly mineralised with iron, calcium and magnesium. For this reason, it's actually very good to bathe in! The bore water is potable, but it has quite a strong taste, so we don't recommend you drink it.
Is it safe to wash anything in the bore water?
The minerals in our bore water make it a little corrosive. For this reason, you may notice corrosion on the stainless steel cutlery and the taps in the bathroom. We don't recommend washing your car in our bore water.
Can we drink the water?
Absolutely! We've invested in a new desalination plant, as well as new rainwater storage tanks. All our water (except toilets and fire hose reels) is fresh rainwater that has been filtered and chlorinated on-site. As with all eco-resorts, water is a precious commodity. Please use it sparingly and avoid long showers.
Group Bookings, Functions & Events
Do you take group bookings?
We love groups! We're the perfect destination for friends and families holidaying together as well as bushwalking, fishing, whale-watching, birdwatching and any other groups! We also have many groups booking for birthdays, reunions and celebrations! Visit our Functions & Group Bookings page for more information.

Of course, we want to make sure your group stays together, so please let us know you're a group when you make your booking. There are Terms & Conditions associated with Group
Bookings, so please check those out here.
Do you have a function venue at the resort?
We do! Our Shala Garden Room is available to hire for intimate gatherings and larger crowds with a range of food and beverage catering packages. Located in lush, tropical bushland, it's the perfect space for relaxed Ballina Beach weddings, corporate events, yoga retreats and special occasions.

The space has capacity for 120 seated-dining guests, up to 200 guests for indoor-outdoor canapé-style events and up to 60 people for yoga retreats and fitness events. Head to our Functions & Events page for more information, or call our friendly team on (02) 6686 3347 to discuss your next event.
About South Ballina Beach
Where's the beach?
The beautiful 31 km-long South Ballina Beach is a five-minute walk away, just behind the resort. Check out our Resort Map for directions.
Is it safe to swim at the beach?
Our policy is to advise guests not to swim on the beach and to make the post of our pools instead. That's because the beach is unpatrolled and has notorious longshore and rip currents. For more information, check out the BeachSafe website.
If you're not a confident and accomplished swimmer, do not go in! If you are an accomplished swimmer, swim parallel to the beach—often this is towards the breaking waves, which can assist you back to shore.
Never swim alone, and if caught in a rip, don't fight it—let it take you out, stay afloat and attract attention. If you're surfing, check out the Surf Cam and Reports website and take great care.
Are you a dog-friendly holiday resort?
We love your furry friends! Your socialised dog is welcome all year round, even in our cabins. During peak periods, we have a limit of one dog per site or cabin. Just remember to advise us that you have a dog(s) before your arrival, and read our Pet Terms & Conditions
here!
Are dogs allowed on the beach?
The beach in front of us is NOT pet friendly (government rules, not ours). If your pup likes an ocean dip, Patches Beach is a designated off-leash area only a ten-minute drive away. National Parks and Council do enforce the beach. If they find you with your dog on the beach, they'll impose a $330 fine.
What are the dog and pet rules around your resort?
To ensure the safety and enjoyment of all of our guests (two and four-legged), we do have some important rules. Before arriving at our resort with your furry friend, please read our Terms & Conditions carefully.
Do you permit campfires at the resort?
Camping isn't camping without storytelling and marshmallows around a crackling campfire! We allow campfires in braziers only, which you can hire for $10 a day from our Resort Shop.
If you're bringing your own brazier, we must approve it before use to ensure everyone's safety. It's essential that you read our Terms & Conditions relating to campfires before lighting one.
Are there any times that we can't use a campfire?
You can have a fire in a brazier all year round, except between Christmas and New Year or other peak periods. Campfires are not allowed under any circumstances during total fire bans or high winds—please check the NSW Rural Fire Service website for up-to-the-minute information. Fires must be put out if directed by the Resort Management to do so.
Can we collect firewood from around the site?
Please do not cut or break trees on our property or any surrounding protected National Park or other lands. We provide firewood, or you can bring your own!
Nature Experiences & Activities
What is there to do around your Nature Resort?
Activities are powered by nature at our idyllic resort and are only limited by your imagination! With South Ballina Beach at your fingertips and Richmond River at your feet, our nine-hectare resort is your launchpad for all the adventure you can handle!
Check out our Nature Experiences page for all the info on bushwalking, birdwatching, fishing, surfing, stargazing, dolphin spotting, whale watching and more! Of course, if all this sounds like too much fun, simply find your relaxation at one of our many tranquil spots where you can read or sunbathe in nature to the sound of breaking waves.
Is there wildlife around the property?
We're so lucky to have a stunning array of wildlife around our resort, including glossy black-cockatoos, echidnas, wallabies, bearded dragons and pythons. For more information, visit our Nature Experiences page! Some of our wildlife is curious and a little bit cheeky. Please treat all wildlife with respect, and don't approach, feed or interfere with their natural
activities even if they want to join in yours.
Are we safe from falling branches?
We run an extensive tree-pruning and maintenance program to keep sites clear of overhanging branches. However, despite our best efforts, nature sometimes has other ideas. Camping is at your own risk, and the resort takes no responsibility for damage caused by
falling branches or from the elements.
Is smoking permitted?
For the health and comfort of all guests, smoking is not permitted inside any of our holiday villas, cabins or luxury tents. To accommodate smokers, you will find an ashtray outside. Please only dispose of your cigarette butts in these ashtrays.

Smoking is also not permitted in our public spaces, including the Turtles Café, amenitiesblocks or the camp kitchen. Any guest found smoking inside our accommodation will be charged a $250.00 cleaning fee and asked to leave immediately. A refund will not be issued.
Please note: Drug use is illegal in Australia. Any guest found using drugs at Ballina Beach Nature Resort will be asked to leave the premises immediately. A refund will not be issued.
What happens if our neighbours make too much noise or disrupt our enjoyment?
We have a 10pm noise curfew so everyone can fall asleep to the sound of owl hoots and breaking waves. We have zero-tolerance for disruptive, aggressive, abusive or destructive behaviour. If someone doesn't comply with our requests, they will be asked to leave, and no refund will be issued. If immediate danger or a threat is sensed, police will be asked to attend.
Guests will be expected to reimburse Ballina Beach Nature Resort for any damage caused by misuse, inappropriate or reckless behaviour during their stay
Please contact us directly as we're here to help make your stay a happy and enjoyable one!